Teletype and Modern MacOS and a Battleship
Working on making the M28 work with a MacOS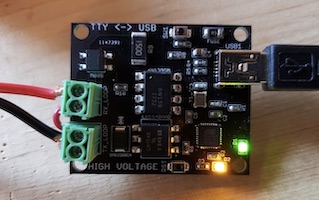 So now that I have the M28 Teletype I am working on making it interface with my Mac. Interestingly enough I have found many people on Green Keys Mailing list to help me along the way. I ran into J.S. Cunningham of
Teletype.net
who sells a USB to Loop converter for $35 bucks at this typing. It works well I can interface with the M28 and type to if from the terminal and see what it types on my screen. This is the first step to getting internet tty to reproduce on the M28. I have included a photo of the device.
I also have a CV-2460 on the way so that I can direct feed sound into it and have it reproduced on the M28 just as it would have been aboard ship. (Of corse you need to feed it though a 8ohm - 600ohm transformer) More on that in the next installment.
Oh yes, before I go; I did get a call back from the USS Iowa Battle Ship on my request to assist in the restoration of the radios and other parts of the ship. I have always advocated for the preservation of the past so that the future may learn (Which is why I love old Navy Radios) Unfortunately the ship is closed because of the Wuhan Virus so I will have to wait until its reopened.
Daniel